Mestre Adamir, A Pacifist
Francisco Adamir de Lima (Mestre Adamir) was born in Ubajara, in the state of Ceará, in a small village called Colônia Monte Alegre, on July 31st, 1932. At the age of fifteen, he went to study at a seminary where he stayed for about three years. After leaving the seminary he moved to São Paulo, yet in his mind he had a desire to go to the Amazon. As a child, he had heard from some rubber tappers – who had returned from the Amazon – about a tea made by the natives that allowed people who drank it to see things as if it were a movie theater. That topic remained in his memory – as a remembrance. He lived for a while in São Paulo, where he went hungry, among other difficulties. Then he moved to Rio de Janeiro. There he enlisted as a soldier, but did not stay for long. He moved back to Ceara and from there he went to Belem, Pará and then to Porto Velho, Rondônia. In 1964, he married Maria da Conceição Ferreira Lima (Conselheira Conceição) and they had five children: Alkimir, Nociley, Solidei, Adamira and Natalia.
In 1969, he met Raimundo Monteiro de Souza (Mestre Monteiro) and his companion, Zilda Felicia da Costa Monteiro de Souza (Conselheira Zildinha), who told him about a tea distributed by a certain man and that allowed people to see things, as in a movie theater. Then he remembered what he had heard as a child, regarding the vegetal of the Indians. After this conversation it was still a while before he drank the Vegetal for the first time.
Vegetal from the hands of Mestre Braga
He had also spent some time in Umbanda, the Catholic Church and the Evangelical Church. He was looking for a place that would support him and orient him towards a better life. The person who invited him to drink the vegetal was a man by the name of Fuad Nagib, who was already a disciple of the UDV. He drank the Tea for the first time on November 24th, 1969, from the hands of Mestre Raimundo Carneiro Braga (Mestre Braga), who told the Story of Hoasca on that day. Thus, in this session, he met Mestre Gabriel. Fifteen days after he drank the Vegetal for the first time, he decided to join the UDV.
Practically every evening some people would gather in Mestre Gabriel's house to talk. Among these were: Mestres Braga, Monteiro, Joanico, Sidom, Modesto, Paixão, Zé Luiz, Pernambuco and others. Adamir was always present, listening and strengthening friendships. On February 10th, 1970, Mestre Gabriel's birthday, M.Gabriel invited the people who were at his house to drink the Vegetal and told the story of Hoasca. Later, Mestre Gabriel said that the topics spoken about pertained to the Instructive Body. Then, Adamir said, "But Mestre, I'm not in the Instructive Body!" The Mestre said, "So you're convoked!" On February 28th, 1970, during an Instructive session in Mestre Gabriel's brickmaking factory, Adamir was convoked to the Body of Council. On the same day, Mestre Bartholomeu received the Star of Mestre.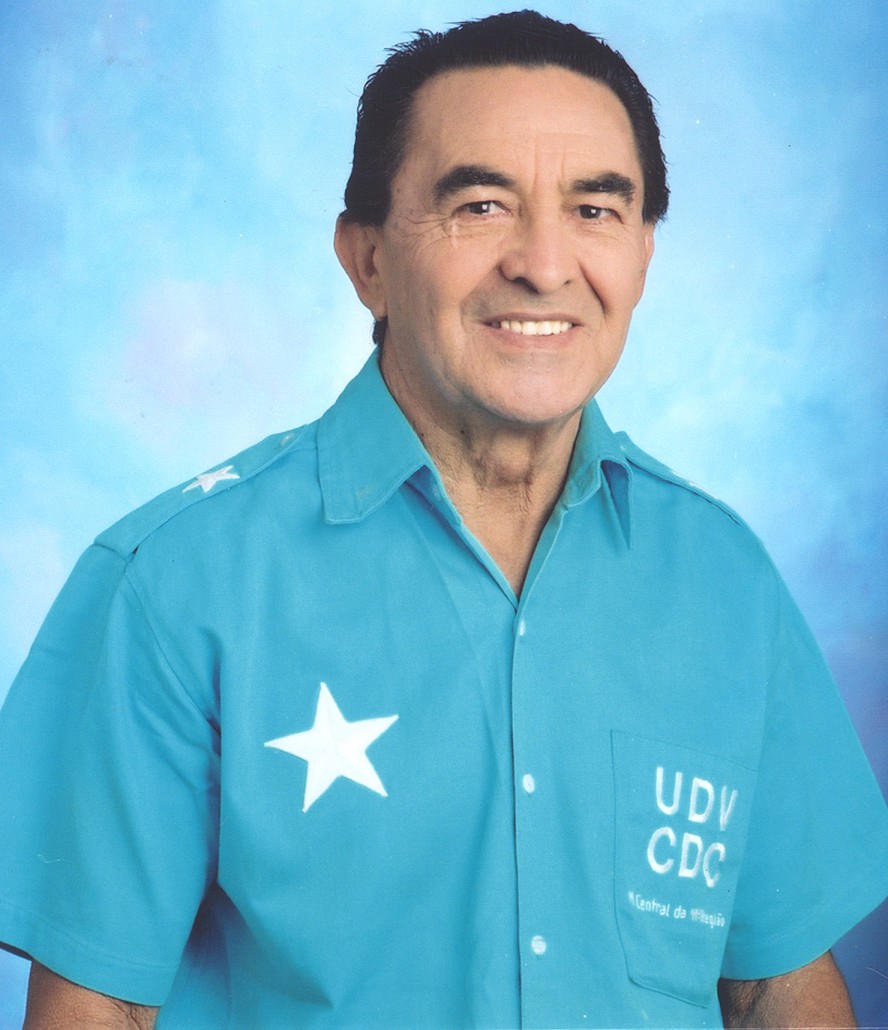 –
First Center President
When Mestre Gabriel was arrested – and an attempt was made to shut down the UDV – there was movement to officially register the UDV – and in 1968 the Beneficent Association União do Vegetal was created. The first president was Hilton Pereira Pinho ( Mestre Hilton). His successor was Raimundo Monteiro de Souza – at that time a member of the Body of Council. After that, the then Conselheiro Francisco Adamir de Lima received the presidency of the Association. In 1971, the Beneficient Spiritist Center Uniao do Vegetal was created and the first president was Conselheiro Francisco Adamir de Lima.
It is always good to remember that, with his own financial resources, Mestre Adamir was able to take Mestre Gabriel to the state of Ceara, where he was admitted to a hospital in the town of Messejana, in the metropolitan area of Fortaleza (Ceará), and received medical treatment necessary to restore his physical health. From there, Mestre Gabriel returned to Bahia and visited relatives and childhood places. After that, he returned to Manaus and from there he went to Porto Velho, arriving on March 27th, 1971. On that day, Mestre Gabriel held a session, known as the day of "Resurrection of the Mestre," which was directed by Mestre Monteiro and on this day he gave the Star of Mestre to Conselheiro Adamir.
Connection with Mestre Sidon
Mestre Adamir was living in Jarú, Rondonia, where he later initiated a Distribution of the Vegetal for some people. He felt he would need help and decided to invite Mestre Sidon to move to Jarú, along with his family. The connection and the union between Mestres Adamir and Sidon was something very beautiful. Then more people arrived and from that distribution, in 1974, Nucleo Mestre Rubens was created. Mestre Adamir was designated to be the Representative Mestre and he held this position for 14 years. On the day I first met Mestre Adamir in Jarú, I was feeling some pain in my body and did not know what it was. He held a session and spoke about a number of things. The following day, when we were harvesting mariri in the forest and started a Preparo of Vegetal, I was better, feeling energetic, and worked for three days. (That day) I learned about the knowledge he had with the Nove Vegetal and Joao Brandinho. He said he had had this knowledge of plants prior to drinking the vegetal for the first time. Due to the good connection I had with Mestre Adamir, I seeked to learn as much as I could on this topic of healing plants.
Work /Integration in Acre
He moved back to Porto Velho, Rondônia and later to Rio Branco, Acre. In this city he was designated as Representative Mestre of Núcleo João Lango Moura and later received the responsibility of Central Mestre of the 7th Region. He managed to perform a special work of equilibrium and union, bringing people to an examination of conscience, in a sense of all contributing to the work of Mestre Gabriel. In this Region, with work, presence and joy, he was able to inspire some people who were drinking the vegetal on their own to integrate with the UDV, pacifying spirits. He was able to bring many people to join the UDV.
Another good example that Mestre Adamir practiced and that is still bearing good fruits today was the neighborly work he did with other societies that used the Hoasca tea in the state of Acre, resulting in the União do Vegetal having the good connection that it has today with the leaders of "Barquinha" and "Alto Santo".
In Ceará, words of love
In the late 90s, along with his companion Conselheira Conceição and his children, he moved to the city of Fortaleza, capital of the state of Ceará, to seek medical care. The medical professionals who treated him always received him with joy and care. On January 6th, 2000, he received the position of Central Mestre of the 11th Region (composed of the nucleos within the states of Ceará, Piauí and Maranhão) from the hands of Mestre José Luiz de Oliveira, then General Representative Mestre of the UDV. In the period in which he administered the 11th Region, he traveled throughout the Núcleos of that region, conducting words of love, growth and union.
He encouraged and oriented the group that was already drinking the tea in the town of Teresina, in the state of Piauí, counseling everyone at the beginning of the works, to seek a true union through the Work of the Mestre. When a Núcleo was created in the town of Teresina on July 31st, 2002, it was named "Mestre Adamir," a tribute to a man who, in my understanding, had a connection and obedience to Mestre Gabriel.
In his trajectory in the UDV, Mestre Adamir did not receive any punishment. There was something different in his aspect that drew attention. In his way of being, he clearly demonstrated his love for Mestre Gabriel. He was a firm person, who kept with his schedule and kept his word. When he spoke of Mestre Gabriel people saw the gleam in his eyes. He came to be considered the richest person in the town of Jarú, when he owned a business there. Even so, he did not demonstrate pride nor arrogance, always demonstrating simplicity and humility.
Mestre Adamir passed away on May 28th, 2001, in the city of Fortaleza, Ceará, while still holding the position of Central Mestre of the 11th Region. According to comments made by some people and also according to a video, made by his son Alkimir , Mestre Adimir directed a session a few days before disincarnating. It took place on a beach called Sauipe, near Fortaleza. The session is marked and registered in the heart of those who were present.
With the grace of the Good Lord, I am honored to have been invited by Mestre Adamir and Conselheira Conceição to be the Godfather of Natália, their youngest daughter, which makes me very happy, because I know how much this gesture means to me, to this very day.
*Representative Mestre of Núcleo Conselheiro Salomão Gabriel, João Pessoa, State of Paraíba.
–