The Beneficent Spiritist Center União do Vegetal has a General Directorate with the mission of managing the Center and the General Headquarters in their material, social, cultural, medical and educational aspects. Therefore, there are specific departments and the coordination of each department is the responsibility of UDV members who are elected or appointed as officers of the General Directorate, including a President, Tadeo Feijão and five Vice-Presidents. All officers are unpaid volunteers and the UDV does not receive any financial resources from private companies or the public sector. Resources for the maintenance of the Center come from dues and donations from members.
VICE-PRESIDENCY
The UDV is constantly growingand to ensure the sustainability use of available resources, the General Directorate has five vice-presidents who are responsible for specific areas of operation. They are:
Vice-President of Finance: Mestre Eduardo Marques (Núcleo Cajueiro Pequenin, Fortaleza-CE)
Vice-President of Information, Technology and Projects: Mestre Marcelo Silva (Sede Geral, Brasília-DF)
Vice-President of Regional Coordination and Patrimony: Mestre Klaus Paranaíba (Núcleo Convite aos Encantos, Formosa-GO)
International Vice-President: Mestre Jeffrey Bronfman (Authorized Distribution of Hawaii, Hawaii – USA)
Vice-President of the local management of Sede Geral: Mestre Francisco Feyer (Sede Geral, Brasília-DF)
The vice-presidents are supported by other elected officers  of the General Directorate (see chart below) and Regional Coordinators (voluntary members who are responsible for ensuring that decisions made by the General Directorate are fulfilled throughout the 19 regions of the União do Vegetal).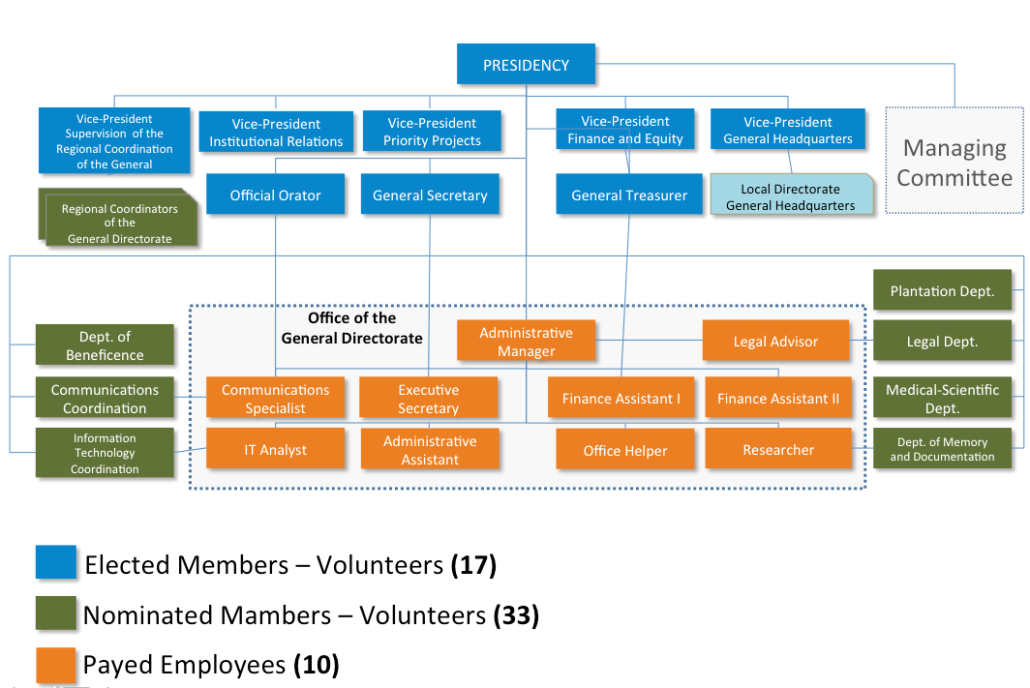 OFFICE IN BRASILIA
The organizational structure of the General Directorate consists of 17 elected members, 87 appointed members and 14 paid employees who develop specific activities in the office of the UDV in Brasilia (DF). They are responsible for assisting the General Directorate with its needs. All office staff are members of the UDV and do not occupy elected positions in the General Directorate.