February 10th: A Consecrated Day in the UDV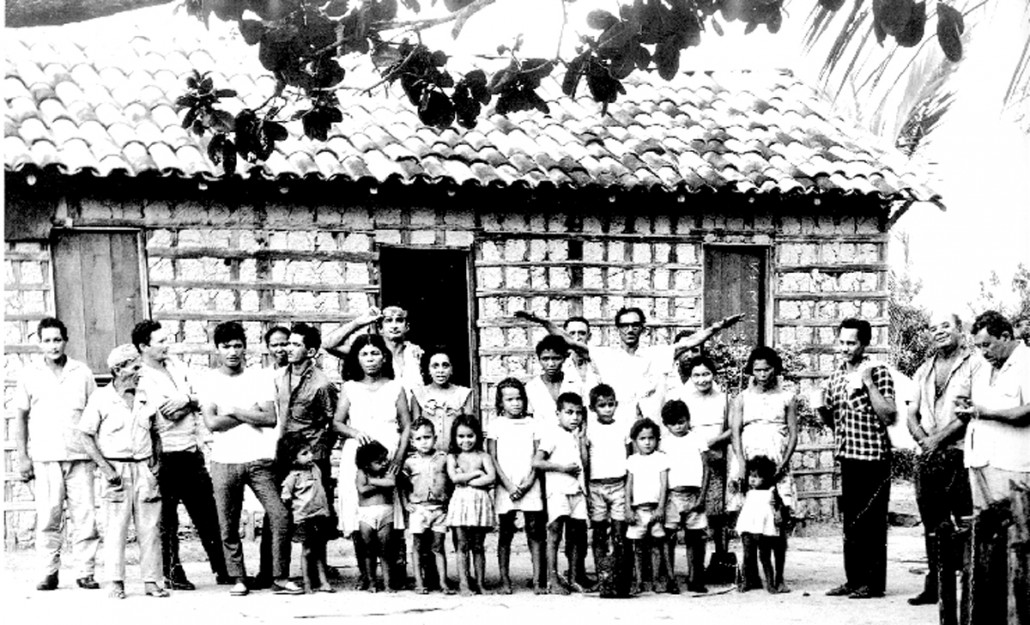 In the most recent publication in homage to the 95 years (since the birth) of Mestre Gabriel, creator of União do Vegetal, we shared a text authored by his compadre and friend Mestre José Luiz de Oliveira *
In the simplicity of the sertão, a boy was born and with this boy a spiritual mission. On February 10th, 1922, in the town of Coração de Maria (Heart of Mary) in Feira de Santana, Bahia, son of Prima Feliciana and Manoel Gabriel da Costa, José Gabriel da Costa was born at noon, accompanied by the sound of bells from a little church nearby.
José Gabriel da Costa grew up within the simplicity of the 'sertão' of Bahia and learned from childhood how to lead his life, helping his parents and siblings in their household chores. He moved from the interior to the capital in search of better days and from there to the Amazon, where he found a treasure: the Vegetal.
From his birth up to his encounter with the Vegetal in 1959, in the rubber plantations of the Amazon, Mestre Gabriel overcame difficulties – and he also comes teaching us his disciples to succeed and to be ever more victorious in life.
It was not always that he celebrated his birthday with lunch and a session, but even having few resources, when he could he would offer lunch to the irmandade, with the help of some brothers and sisters. And on his birthday sometimes he would even hold a session, and one day he said, "I'm not better than anyone, and I do not want privileges, so, just as I held this session on my birthday, all the mestres who want to hold a session celebrating their birthday in the União do Vegetal have the right to do so, but they have to tell the Story of Hoasca so that people have more opportunities to hear the story. "
Nowadays this is no longer happening because there are many mestres in the UDV and the General Administration, which at that time was part of the Council of Administration, decided that this is no longer necessary – it is not prohibited, but avoided because there are many mestres in the União. In that time, we were only eight mestres (the first ones that he formed) and that is why today it is no longer possible – but Mestre Gabriel presented us with this opportunity on his birthday, demonstrating his good will to see this Divine Work that he created grow.
When he, Mestre Gabriel, left this plane – disincarnated, we, his disciples, recognizing the value of the Mestre, gathered together and took the initiative of making February 10th, the anniversary of the birth of Mestre Gabriel, a consecrated date in the União do Vegetal. It was us, his disciples, who deliberated this – he did not ask for it. For this reason, today is a consecrated day in the União do Vegetal. And this word "consecrated" is because we recognize the value of his extraordinary work, his way of preparing his disciples to give continuity to his Sacred Work and his conviction in the things of God. It is a consecrated date because we recognize the work of the Mestre and it is for this reason, with simplicity, that we consecrate this date, February 10th, because it is the birthday of the Mestre, the author of the União do Vegetal.
And it is through him that we are here today seeing this União do Vegetal grow and cross the borders of the country. It is through him that we are able to bring to each heart his doctrine and his teachings – which are the same teachings that Jesus left for Humanity. Mestre Gabriel was so convinced of the growth of the União do Vegetal that he said that the time will come when it will be said "before the União do Vegetal it was like that, after the União do Vegetal it is like this." The União do Vegetal, as our fondly missed Mestre Gabriel said to us, "will be a new landmark in the history of humanity", and it is up to each of us, his disciples, to give value and meaning to his words.
May we, on this date and on every other day, be grateful to the Divine Master Jesus for enabling us to find, through the practice of the teachings and of the doctrine of Mestre Gabriel, the light of the path that brings us closer to God. And may we honor the place of being a disciple of Mestre Gabriel and be spokesmen of Light, Peace and Love wherever we pass.
–
Long live Mestre Gabriel!
Long live the União do Vegetal
Always in our Hearts!
–
*Mestre José Luiz de Oliveira is a member of the Council of Recordation of the Teachings of Mestre Gabriel and the Representative Mestre of Sede Geral (General Headquarters), Brasilia, DF, Brazil.
Coordinator of Translation – Isabel Cavalcante – Member of CDC of Nucleo Jardim Florescendo – Florida/USA
Revision: Sean Nolan – Member of CDC of Nucleo San Francisco – California/USA
–
Posted on February 13, 2017.